From 22 to 24 June the fourth meeting of the seven partners of the LandSea project took place in the charming Zaragoza, Spain.
The friends of the Universidad de Zaragoza masterfully hosted the meeting, which was attended in presence by the leader Petra Patrimonia (Corsica-France) and the partners Mediterranean Center of Environment (Greece), Med.O.R.O. scarl and Fabbrica Ambiente Rurale Maremma (Italy), while AVA Creations Foundation (Bulgaria) and PCX Computers & Information Systems LTD (Cyprus) connected remotely.
The first two days were dedicated to verifying the state of the art of the various outputs envisaged by the project and in particular two work sessions were dedicated, one in small groups and one in plenary, to perfecting the Methodological Guide for the joint development of a Discovery Tour linked to the typical elements "land and water".
Overall, the results obtained so far corresponded well to the objectives, both in terms of quality and timing, as the development of the Training contents was completed and the creation of the e-learning platform was well advanced. The work sessions were followed by a very interesting visit to the Laboratory of the Food Science and Technology Institute of the University of Zaragoza.
The third day allowed the partners present to "test" the first part of the Discovery Tour proposed by the Universidad de Zaragoza which took place in the Aragon area crossed by the Ebro river, visiting characteristic villages (La Zaida, Cinco Olivas, Alborge) and some emblematic sites in the history of the Ebro, such as a water diversion canal for hydroelectric production, a medieval dam that diverted the river's water towards a mill in the city, an old oil mill and finally the Monasterio de Rueda.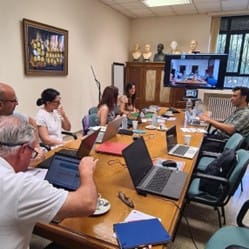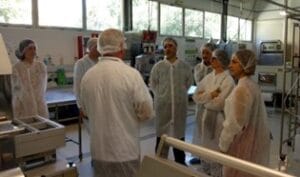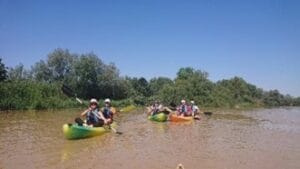 And in November ……… all in Italy !!!